Blax, Snake, Home is the fourteenth episode of Happy Endings and the first episode of season two. It was written by Josh Bycel and directed by Anthony Russo. It is the fourteenth episode of the series overall, and premiered on September 28, 2011.
After buying her first home Penny decides to hold a swinging twenties party. While Jane encourages Dave and Alex to open up about their little white lies and be honest with each other, only to find herself caught in the middle of a web of her own creation. Max finds out the reason behind Brad's odd behaviour.
Eliza Coupe...Jane
Elisha Cuthbert...Alex
Zachary Knighton...Dave
Adam Pally...Max
Damon Wayans Jr....Brad
Casey Wilson...Penny

Guest Cast
Edit
Derek Waters...Glaze
Rand Holdren...Jeremy
Brandon Johnson...Daryl
Jane Morris...Mrs. Sarner
David Harris...Neighbor Guy
Hayden Lee...Steve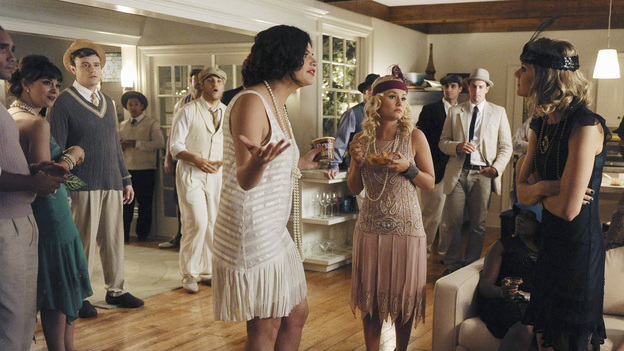 Ad blocker interference detected!
Wikia is a free-to-use site that makes money from advertising. We have a modified experience for viewers using ad blockers

Wikia is not accessible if you've made further modifications. Remove the custom ad blocker rule(s) and the page will load as expected.